Similac 3- From 1 to 3 Years- 900gm- UK
Product Type: Milk Formula. Brand: Similac. For Whom: For Babies Aged 1 to 3 Years. Enriched with Eye-Q Plus system of nutrients, including AA, DHA, omega 3,6, taurine, choline, lutein and iron Similac 1 Intelli-Pro contains the Intelli-Pro system, which is a distinguished blend of lutein and DHA in a special lipid system, designed to support the absorption of key nutrients. It provides clinically proven and nutritionally important ingredients to support tolerance.
Weight-900 gm

Packaging Type-Tin Can

suitable from (Age Group)-1-3 Years

meal type-Formula

ORIGIN-UK

Net Weight-900 gm

Packing Type-Tin

Packgeing Type-Tin
Now closer than ever to breast milk—made with premium ingredients, including organic lactose

Complete, gentle nutrition with A2 milk protein

The first and only organic infant formula in the US made with A2 milk that is non-GMO* and has no artificial growth hormones†

Formulated with a unique blend of DHA, lutein, and vitamin E for brain and eye development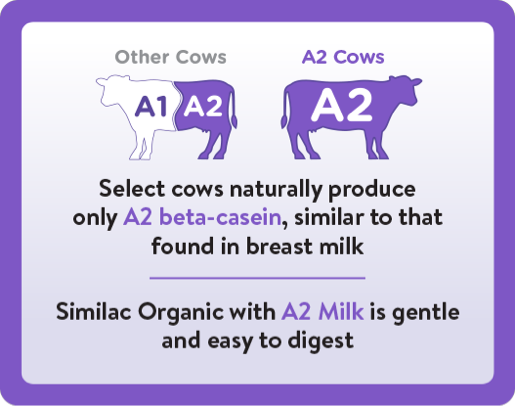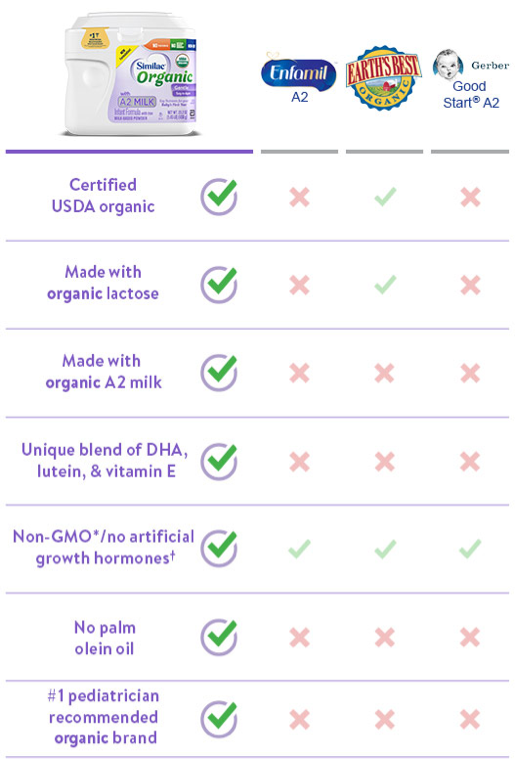 * Ingredients not genetically engineered. † No significant difference has been shown between milk derived from rbST-treated and non-rbST-treated cows. Enfamil, Earth's Best, and Gerber Good Start are not registered trademarks of Abbott Laboratories.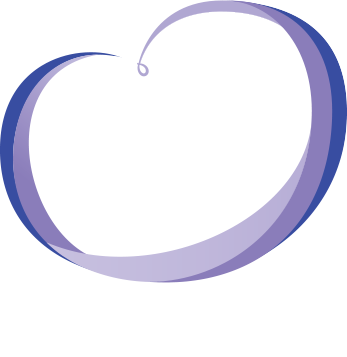 Available In:
1.45-lb Powder
No Palm Oil/Palm Olein Oil
Organic with A2 Milk Promise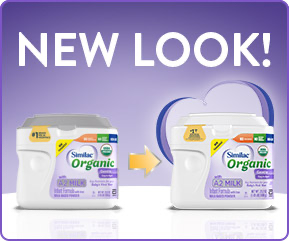 Nutrition Information
Powder / 1.45 lb
Serving size: 100 Cal (5 fl oz, prepared as directed)
Amount per serving
Calories:

100

Volume, mL:

148

Protein, g:

2.07

Fat, g:

5.63

Carbohydrate, g:

10.4

Water, g:

133

Linoleic Acid, mg:

860
Vitamins & Minerals
Vitamins
Vitamin A, IU:

300

Vitamin D, IU:

60

Vitamin E, IU:

1.5

Vitamin K, mcg:

8

Thiamin (Vitamin B1), mcg:

100

Riboflavin (Vitamin B2), mcg:

150

Vitamin B6, mcg:

60

Vitamin B12, mcg:

0.25

Niacin, mcg:

1050

Folic Acid (Folacin), mcg:

15

Pantothenic Acid, mcg:

450

Biotin, mcg:

4.4

Vitamin C (Ascorbic Acid), mg:

9

Choline, mg:

24

Inositol, mg:

24
Minerals
Calcium, mg:

78

Calcium, mEq:

3.9

Phosphorus, mg:

42

Magnesium, mg:

6

Iron, mg:

1.8

Zinc, mg:

0.75

Manganese, mcg:

5

Copper, mcg:

90

Iodine, mcg:

15

Selenium, mcg:

2

Sodium, mg:

24

Sodium, mEq:

1.04

Potassium, mg:

105

Potassium, mEq:

2.7

Chloride, mg:

65

Chloride, mEq:

1.8
Ingredients
Contains milk ingredients.
Organic Lactose, Organic Nonfat Milk, Organic High Oleic Sunflower Oil, Organic Soy Oil, Organic Coconut Oil. Less than 2% of: C. Cohnii Oil, M. Alpina Oil, Beta-Carotene, Lutein, Short-chain Fructooligosaccharides, Potassium Citrate, Calcium Carbonate, Ascorbic Acid, Ascorbyl Palmitate, Ferrous Sulfate, Salt, Choline Chloride, Choline Bitartrate, Taurine, Inositol, Magnesium Chloride, Zinc Sulfate, Mixed Tocopherols, d-Alpha-Tocopheryl Acetate, Niacinamide, Calcium Pantothenate, L-Carnitine, Vitamin A Palmitate, Copper Sulfate, Thiamine Hydrochloride, Riboflavin, Pyridoxine Hydrochloride, Folic Acid, Manganese Sulfate, Phylloquinone, Biotin, Sodium Selenate, Vitamin D3, Vitamin B12, Potassium Iodide, Potassium Hydroxide, and Nucleotides (Adenosine 5'-Monophosphate, Cytidine 5'-Monophosphate, Disodium Guanosine 5'-Monophosphate, Disodium Uridine 5'-Monophosphate).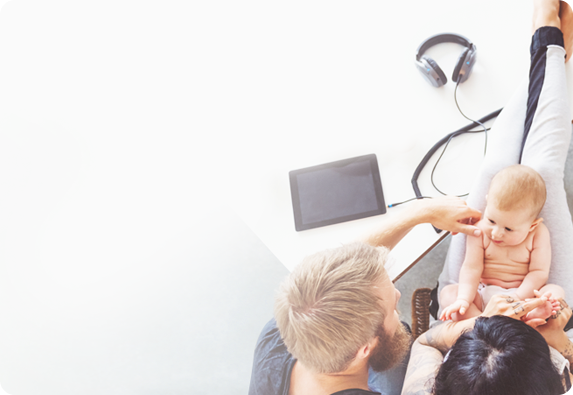 Backed By Science. Nutrition You Can Trust.
Start your baby on Similac® formulas with DHA, Lutein, and Vitamin E.